AGENCY EXPRESS
Agency Express are the largest board services supplier in the UK, their services include: managing board erections, changes and removals as well as storage of boards not being used. We have partnered with them as we believe they are the best provider of these services in the UK and have negotiated a great pricing structure for KW Agents.
GET STARTED
To use this Stationery Store board service you will need to use Agency Express as your board services provider, if you do not have an account, Agency Express will contact you immediately after your first order to set one up with you, establishing your operating area and local board operator.
Simply continue with your board order, Agency Express will be notified automatically and will contact you once your order is made.
COMPLETE BOARD MANAGEMENT
Just order your boards and Agency Express will take care of the rest, your boards will be printed and delivered to your local board operator automatically. Then you will be able use Signmaster (the Agency Express website) to to erect or remove boards and attach slips when and where applicable, servicing or retrieving your boards, cleaning and storage as well as stock level notifications.
As one of our priorities, Agency Express will be fully integrated into KW Vision, your CRM system, once this API has been developed you will be able to control all of your board movements from within the property record in Vision.
YOUR BOARD ORDER - STEP BY STEP PROCESS
Choose the type of board you require, Standard or Premium. Standard boards are exceptionally good value. The Premium boards are more durable and of an enhanced quality.
Now select the preferred design from the board selection. You will find most of your details are populated from the profile page, however you can change the content using the tools provided.
Select your board quantity and required slips, then simply place your order and pay.
Your boards and slips are now in production, Once printed they will be delivered to your local operator ready for you instructions.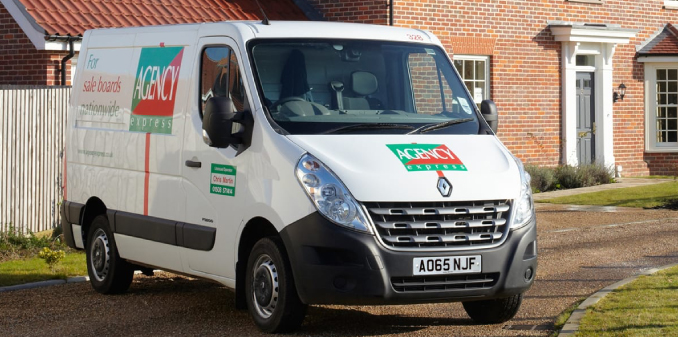 ABOUT AGENCY EXPRESS
With Agency Express, you will benefit from their efficient, award winning service from day one. You will also have access to 'SignMaster3' the industry's most advanced online estate agency board management system, which is exclusive to Agency Express until the system is fully integrate with KW Vision.
Sign in and order